I will be sitting with Cullen Thomas at the Korea Society on Thursday November 29th, for a conversation on his book and Korean history, politics, and culture.
In 1993, Cullen Thomas was a young man who wanted to see the world and South Korea was one of his first stops. Convicted of smuggling hashish and sentenced to 3 ½ years in Korean prison, the world he ended up seeing—one in which the Confucian customs of Korean society take on a harsh character—wasn't the one he expected. Reading from his new memoir Brother One Cell: An American Coming of Age in South Korea's Prisons (published by Viking in March 2007) and taking questions, Thomas will share the gritty reality of an American's life in a foreign prison: its unforgettable pains and its unexpected and beautiful lessons.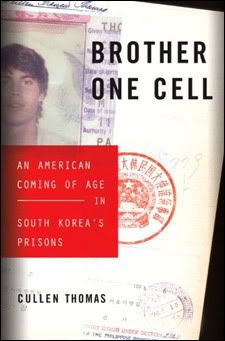 Cullen Thomas grew up in Port Washington, New York and graduated from Binghamton University in 1992 with a degree in English. While teaching English in South Korea in 1993, Thomas was convicted on a narcotics charge and served a 3 ½ year sentence. Released in 1997, he returned to New York, working as a writer, teacher and editor of The Princeton Review. From 2002 to 2005 Thomas served as a staff writer and assistant editor at Current Biography. His writing has appeared in the New York Times Magazine, Washington Post, Salon, Rhythm, Chamber Music Magazine, and the Korea Times.